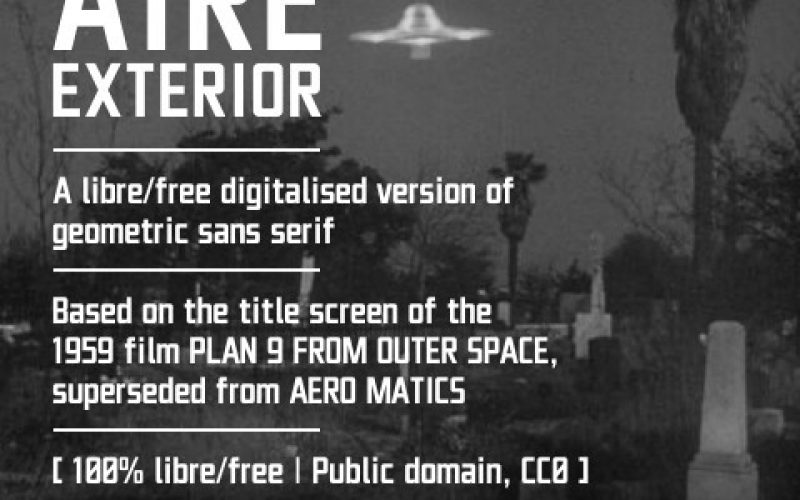 Aire Exterior Font
Aire Exterior (English: Outer Air) is a geometric sans serif typeface based on the title screen of the 1959 film Plan 9 from Outer Space, superseded from 2012 erroneous design Aero Matics, created with libre/free font editor software FontForge.
Source files: https://notabug.org/HarvettFox96/ttf-aireexterior/
===| Version release history |===
Version 20190407.03:
– Fixed WinDescent in OS/2 metrics to avoid height cutoff issue.
Version 20190407.02:
– Added tons of kernings in glyph positioning (GPOS) table.
– Fixed glyph of Spesmilo (₷) currency symbol.
– OS/2 and TeX metric tweaks and fixes.
– Several character tweaks and fixes.
Version 20190407.01:
– Initial public release.
===| Copyright/attribution notice |===
© 2009-2019 Jayvee Enaguas (HarvettFox96). Released under a libre/free public domain licence as Creative Commons Zero (CC0) 1.0. Applies worldwide countries including the Philippines, Spain, etc.
Follow @1001graphics